Kate Middleton Urged To Lobby Favorite Design House Over Slave Labor Charges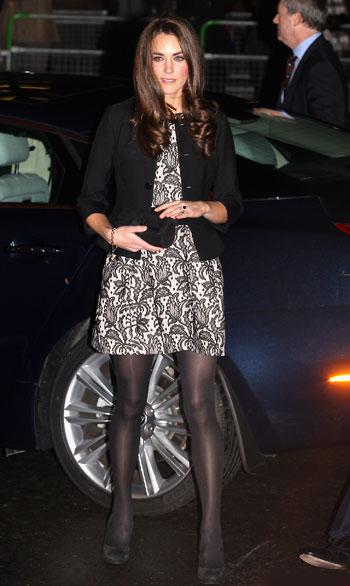 Kate Middleton is being urged to take an active role in lobbying one of her favorite design houses, Zara, following allegations of horrific slave labor-like conditions in facilities where its clothes are manufactured.
The company has been rocked by the deaths last month of two workers in a Bangladeshi factory which supplies the Spanish chain.
The Duchess of Cambridge has often been seen shopping in the chain's stores, and has worn two of its outfits on public occasions since becoming the wife of Prince William.
Article continues below advertisement
One was the $75 cornflower blue dress she wore the day after her wedding, seen when she and William departed Buckingham Palace by helicopter. The other was a short nude and black lace tulip dress she wore to a charity event shortly before Christmas.
The two workers who died in December were both caught up in a stampede of personnel trying to escape a factory after a boiler explosion.
Greg Muttitt, of the UK charity War on Want, pulled no punches in demanding that Kate take a position on the tragedy. "Kate has been a public ambassador for the Zara brand. In contrast, she has shown no interest in the lives and conditions of the workers who make Zara's clothes," he said.
"'Following this tragedy, a people's princess would insist that Zara fairly compensates the bereaved families and call on the British government to enact legislation to protect overseas workers for UK retailers."
Kate isn't the only famous face to become embroiled in the scandal of sweatshop conditions in foreign clothing factories.
Kate Middleton Shows Off Her Slender Figure In Snug Knit Dress
As RadarOnline.com has reported, Kim Kardashian is under fire for manufacturing some of her lines in China, famous for the deplorable wages it pays children who work in clothing factories.