Woman Claims She's A Vampire In Bloody Attack On Florida Man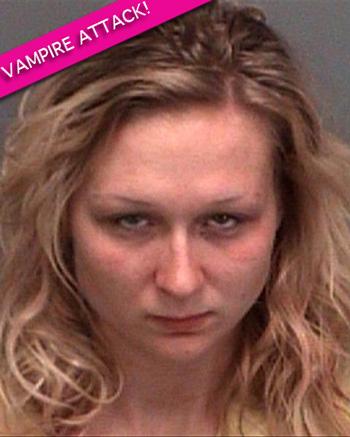 The vampire infestation has from the big screen to the small screen, and now to the dangerous streets of Florida.
A female blood-sucker attacked an elderly man on the porch of a vacant Hooters in St. Petersburg on Thursday night and bit off the side of his face and lip, reported the St. Petersburg Times.
Josephine Rebecca Smith, 22, of Pensacola, jumped on top of Milton Ellis, 69, while he slept in his wheelchair and began, ripping up his face.
Article continues below advertisement
When the startled man awoke, his attacker told him she was a vampire, he told police.
Ellis managed to escape and went to the nearby Shell station to call for help. Police found Smith bloody, confused and half-naked at the Hooters restaurant, and with no idea how she got there and or what happened.
Smith and Ellis had met earlier in the evening at the Shell station, where the 22-year-old girl had been trying to call a relative to come and pick her up, and the elderly man invited her to hang out with him at the abandoned eatery.
He eventually fell asleep in his motorized chair and that was when the real life True Blood vampire attacked.
Police charged Smith with one felony count of aggravated battery on an elderly person. Bail was set at $50,000. RadarOnline.com has confirmed that as of late Saturday, she was still being held.
Ellis, who The St. Petersburg Times reported has been arrested a number of times for panhandling, disorderly intoxication, trespassing and possession of an open container, was taken to hospital and received stitches for his injuries.