Happy Birthday Charlie! Sheen Turns 46 — A Look Back Through His Colorful Life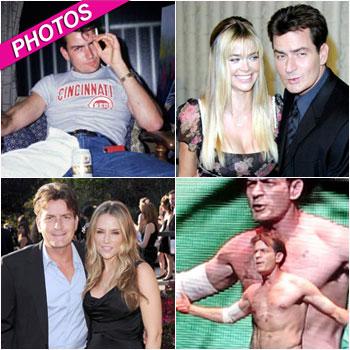 Charlie Sheen turns 46 on Saturday and RadarOnline.com is celebrating with a colorful gallery of his many incarnations through the years.
Charlie was dazzling audiences with his marked talent long before he was hitting the headlines for all the wrong reasons.
Sheen's film career began alongside Patrick Swayze in 1984 with a role in the Cold War teen drama Red Dawn. He had his first major role in the 1986 Oliver Stone directed Vietnam war drama Platoon.
Article continues below advertisement
The fresh-faced 22-year-old generated Oscar buzz after he teamed up with Oliver Stone once again for his star-making turn in 1987's Wall Street, which he appeared in with his father, Martin Sheen and Michael Douglas.
But even in 1987 Charlie's reputation as a hard partying lothario was firmly starting to take place. Sealing his love for 'adult entertainment actresses,' Charlie romanced famed porn star Ginger Lynne in an on again/off again relationship that lasted for years. When asked about the relationship, he was quoted as saying: "I love dangerous women."
Sheen appeared to have settled down when he got engaged to the future Mrs. John Travolta, Kelly Preston in 1989. The pair never made it to the altar though, and split after she was accidentally shot in their home. The incident was ruled an accident.
EXCLUSIVE PICTURES: Get A Sneak Peek At Charlie Sheen's New Comic Book
In 1991, Sheen appeared alongside his future Two and a Half Men co-star Jon Cryer in the Top Gun spoof, Hot Shots. He later reprised his role in 1993's Hot Shots, Part Deux.
Article continues below advertisement
Sheen finally made it to the altar in 1995 with model/actress Donna Peele. Later that same year Sheen was named as one of Hollywood madam Heidi Fleiss' top clients. His marriage to Peele lasted only months.
In 2000, Sheen dated Heather Locklear briefly before meeting and marrying his Good Advice co-star Denise Richards. After having two daughters together, Sam and Lola, the pair endured one of the ugliest divorces in Hollywood history, with allegations of domestic abuse and restraining orders flying.
Sheen took his final walk, to date, down the aisle with Brooke Mueller in 2008 -- the couple are parents to twin boys, Bob and Max. However, things soon turned sour, and Sheen and Mueller divorced officially in 2011, after accusations of drug abuse, spousal abuse, and infidelity.
On March 7, 2011, Sheen was famously fired after an almost eight year run on Two and a Half Men after he had a very public meltdown. He has since launched a legal battle against CBS, Warner Brothers Television and the show's creator, Chuck Lorre.
Article continues below advertisement
Charlie recently announced his return to the small screen in a new sitcom, Anger Management. Based on the 2003 movie of the same name, Sheen will play "a mild-mannered, non-confrontational man" who is "ordered to attend group anger management sessions led by a therapist who could probably use some anger management himself."
RELATED STORIES:
Charlie Sheen Drops Extortion Lawsuit Against Porn Star Gal Pal