Jennifer Lopez Soars In New Music Video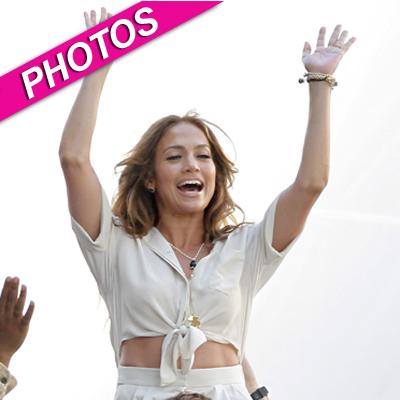 Marc who?
Jennifer Lopez put her divorce troubles behind her as she shot the music video for her new track Papi in downtown Los Angeles on Saturday.
The 42-year-old star looked in great spirits, smiling and laughing as she was man-handled by a bunch of handsome hunks during the high energy shoot.
Jennifer was stunning in a cropped white shirt and shorts which showed off her perfect curves as she paraded on stage during a choreographed dance routine alongside the group of male dancers. The muscular guys tosses the singer in the air, had her doing a headstand in their arms, and flipped her several times.
Article continues below advertisement
The singer and actress has launched herself into work following the announcement that she is ending her marriage to Latin singer Marc Anthony.
Aside from the music video, Jennifer has been busy shooting her upcoming film What To Expect When You're Expecting alongside Cameron Diaz, and she's signed on to return to the American Idol judging panel with reports suggesting she will bank $20 million for the gig.