Karina Smirnoff On Fiancée's Dancing Ability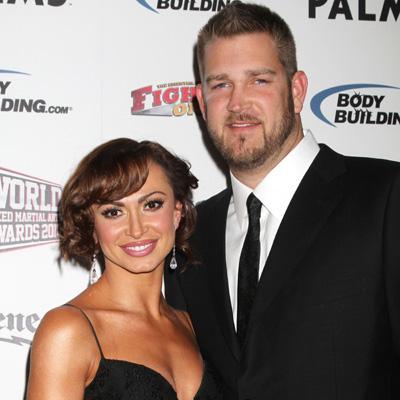 Karina Smirnoff won't be the only dancing star at her wedding.
The Dancing with the Stars beauty and her fiancé, burly baseball journeyman Brad Penny, will tie the knot in the Caribbean January 21, and according to Karina, getting hitters out isn't the only thing the big man excels at.
"He's actually really, really good at dancing," the 33-year-old Playboy stunner exclusively tells our friends at Hollyscoop.com. "I call him twinkle toes, but he doesn't dance in public. If there's even one person in the audience, he doesn't dance.
Article continues below advertisement
"But when we're home alone, he twirls me, he lifts me, he's really good."
Smirnoff told Hollyscoop.com that when her big day comes, they'll probably settle on something a little tamer than the spicy numbers you've seen her shake it to on the ABC hit.
"I think because he's really conservative and shy, we're going to end up doing the … traditional rocking back and forth," Smirnoff said.
The Russian beauty also said that while she appreciated the pageantry of April's royal wedding, she's not looking to emulate it for her own special day.