VIDEO: Late Night Comics Hold Weiner Roast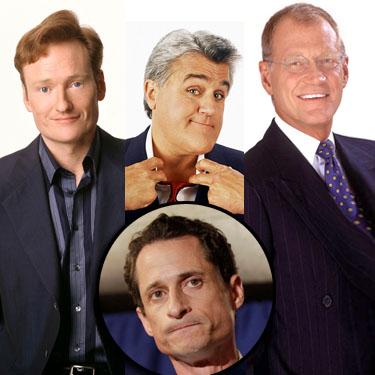 It's like shooting fish in a barrel – or in this case, a Weiner in a sex scandal.
Late night funnymen Jay Leno, David Letterman, Conan O'Brien and George Lopez each had a field day on their respective shows Monday night poking fun at embattled Representative Anthony Weiner of New York.
"Weiner finally spoke to the news media today," Leno said in his monologue. "Apparently, he wanted to wait till his pants came back from the dry cleaners!"
Article continues below advertisement
Leno continued: "And I love the way the media reports the story: They say this whole thing started when a lewd photo of a man's crotch was sent to one of Congressman Weiner's Twitter followers.
"Do they even have to say lewd?" Leno asked. "I mean, are there tasteful photos of men's crotches?"
On CBS, Letterman's famous top 10 were questions "to ask yourself before tweeting a photo of your deal."
Among our favorites:
Number 7, Do I have a last name that would make this especially embarrassing?
Number 4, Is there a better way to show people I'm Jewish?
Number 3, What would Brett Favre do?
Number 1, What could possibly go wrong?
Over on TBS, both O'Brien and Lopez had barbs for the embattled politician.
"It's so childish -- and so perfect," O' Brien said of the politician's last name, before launching into an impression of Weiner's ... wiener.
Article continues below advertisement