LIVE STREAM: Defense Begins Week 2 In Casey Anthony Trial – Watch It Here Live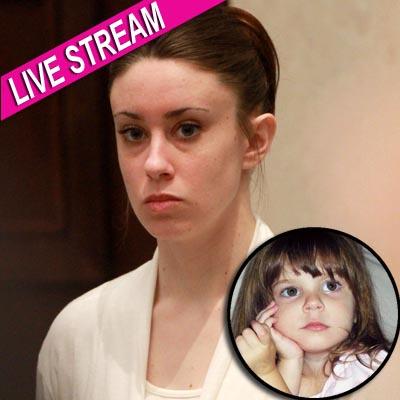 UPDATE: The court is in recess until Tuesday.
The defense resumed presenting its case in the Casey Anthony murder trial Monday, and once again, RadarOnline.com is live streaming the proceedings.
As the defense enters the second week of its turn, the big question remains: Will Casey take the stand in her own defense?
In most high profile cases, defendants usually do not testify; experts say it's just too risky, but ultimately, the decision is Casey's, and hers alone.
Article continues below advertisement
So far, her legal team is not indicating if she's made up her mind.
The Orlando, Florida woman, 25, is charged with first degree murder in the death of her 2-and-a-half-year old daughter Caylee, whose body was found in a wooded area in December, 2008, six months after she was reported missing.
Prosecutors contend Casey used duct tape to suffocate the girl, while the defense maintains Caylee accidentally drowned in the family's pool, and that Casey's father, George Anthony, covered up the crime.
If convicted of first degree murder, Casey could face the death penalty.