Casey Anthony's Family Gives Shocking Testimony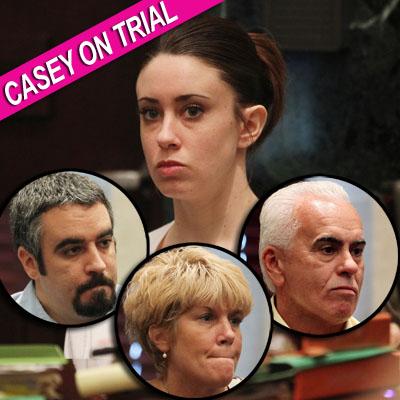 By Alexis Tereszcuk - RadarOnline.com Senior Reporter
Casey Anthony's family took the stand again in her explosive murder trial in central Florida on Tuesday morning, and her father, mother, and brother each delivered shocking testimony.
George Anthony, Casey's father, was questioned aggressively by her defense about an alleged affair he had with a woman named Krystal Holloway (also known as River Cruz). As George's wife Cindy watched in the courtroom, George adamantly denied having an affair with Holloway. He also told Casey's defense attorney "to me that seems funny" when asked about having a romantic encounter with her and said he was at her house to "comfort" her because she was dying of a brain tumor.
Article continues below advertisement
Defense attorney Jose Baez then started hammering George with details that match the defense claim that Caylee died in a drowning accident in the family pool. He asked George if he had told Holloway/Cruz that Caylee's death was an accident that "snowballed out of control," and George said no, he "never did."
Casey's mother Cindy and her brother Lee each took the stand again and seemed to contradict each other with their testimony.
Graphic Crime Scene Pictures Introduced Into Evidence
Lee spoke about the search for his niece Caylee. He said he was arguing with his mother about sending a private investigator Dominic Casey over to Suburaban Drive to search for Caylee's body in 2008.
"I was quite angry, it was the first time I heard anyone in my family offer up they were willing to look for a deceased Caylee," Lee said.
However, in a shocking statement, Cindy then took the stand and denied telling the private investigators to search a particular area of the woods where Caylee's remains were ultimately found.
MORE ON:
Celebrity Justice
Article continues below advertisement
"I have never told anybody that I sent those guys there because I never sent those guys there," Cindy said.
The defense may call its first witness later this week.
Evidence Photos Introduced Into Casey Anthony Murder
When court resumes after a lunch break Tuesday, the meter reader who discovered Caylee's remains in a wooded area near the family's home in Orlando, Florida in December of 2008 will resume his testimony.