Arrest Warrant Issued For Libyan Leader Moammar Gadhafi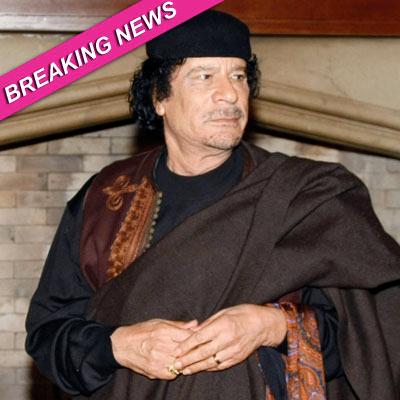 by RadarOnline.com Staff
Judges from the International Criminal Court on Monday issued arrest warrants for Libyan head Moammar Gadhafi and his inner circle, in connection with the killing, maiming, arrest and imprisonment of Libyans earlier this year, as well as subsequent attempts to cover said actions up.
Gadhafi's son Seif al-Islam and intelligence chief Abdullah al-Sanoussi also had arrest warrants issued in their names for their actions during the 10-day uprising earlier this year (February 18-28) of those looking to topple Gadhafi's four-decade regime.
Article continues below advertisement
All three men are internationally-wanted suspects in the wake of the warrants being issued.
The fallout of the mutiny, and connected reactions, eventually led to bombing from NATO to bring things to order; the bombing has gone on 100 days, so far. NATO will continue its' air campaign against the wanted Libyan leader and his forces, and were launching a strike on his Tripoli compound early Monday.
Libyan government spokesman Moussa Ibrahim said said of the court's efforts, prior to Monday's proclamation, that "the ICC has no legitimacy whatsoever" and Gadhafi's forces "will deal with it."
World leaders such as French President Nicolas Sarkozy continued to speak out in hopes the warrant will bring Gadhafi's longtime reign to a halt.
"After 41 years of dictatorship," Sarkozy said, 'it is perhaps time to stop, for him to leave power."
RELATED STORIES:
Celebs Who Have Done Jail Time