PHOTOS: Car-Crashing Snooki Misses Jersey Shore Girls Night Out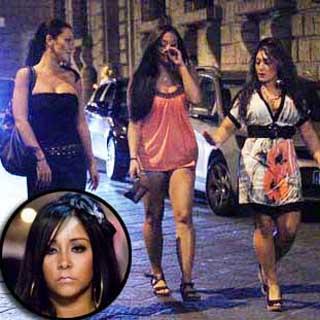 It was girls' night out on Monday for the Jersey Shore cast, but Snooki didn't join in the fun following her collision with a police car earlier in the day.
Jenni "J-WOWW" Farley, Deena Cortesse and Sammi "Sweetheart" Giancola squeezed into their tightest outfits and highest heels as the hit the streets of Florence, Italy, where the fourth season of the show is currently filming.
Notably absent from the group of spray-tanned guidettes was Nicole "Snooki" Polizzi, who was no doubt still in shock after the fender bender that landed two Italian police officers in the hospital with whiplash.
Article continues below advertisement
As RadarOnline.com previously reported, the pint-sized TV star was driving with Cortese in the passenger seat and a member of the show's production team in the back, when she struck the official vehicle, wedging her car between the police car and a wall. Ironically, the car she hit was the reality stars' official police escort!
Late on Monday MTV, the network that airs Jersey Shore, released a statement confirming that two cast members were involved in a crash. The statement said no alcohol was involved and no one was arrested.
Snooki's housemates didn't let the incident hamper their style, however, as they were spotted sipping cocktails and mingling with locals in the Tuscan city.
RELATED STORIES: