More Details On Kim Kardashian's Epic Engagement!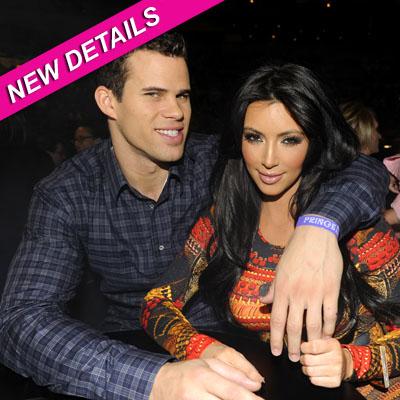 In the wake of the huge news that Kim Kardashian is now engaged to New Jersey Nets forward Kris Humphries, we've got all the details you're looking for on what's sure to be one of the most-anticipated weddings in Hollywood history.
As we previously reported, the bright-eyed NBA hunk popped the question to Kim on May 18, with a spread of rose petals around her room arranged to read, "WILL YOU MARRY ME?"
Article continues below advertisement
A source told Star magazine earlier this month that Kim was "already making wedding plans and looking for diamond rings at the most high-end jewelry stores ... it's really happening.
"She knows Kris is the one and can't wait to be his wife. It's already a done deal, and they both know it."
The source added that the sexy couple was already talking honeymoon plans even before Humphries popped the question.
And don't expect a small, family-only ceremony, either -- these are the Kardashians, remember?
"Kim wants her special day to be like the royal wedding in the U.S.," the source said. "It has to be the most fabulous event ever. She wants to have the biggest ring, she wants a huge wedding, close to 1,000 people."
Some of the big names expected to be on the guest list include pop stars Justin Bieber and Kanye West; pop culture gatekeeper Ryan Seacrest; and NBA mega-star Carmelo Anthony.
Article continues below advertisement
Then, there comes the subject of bling: While People reported Humphries also lavished the socialite with a 20.5-carat Lorraine Schwartz diamond sparkler, Star reported the news a few weeks back that Kim was perusing jewelry at New York's Neil Lane early last month.
The source told the magazine that Kim was browsing all kinds of cuts and settings in her quest for the perfect engagement ring, and that Humphries wasn't about to plunk down for the ring without input from his soon-to-be better half.
Kardashian, 30, and Humphries, 26, have been dating since December 2010. Prior to Humphries, the socialite was romantically linked to NFL players Reggie Bush and Miles Austin, and model Gabriel Aubry.
RELATED STORIES: