LIVE STREAM: Testimony Resumed In Casey Anthony Trial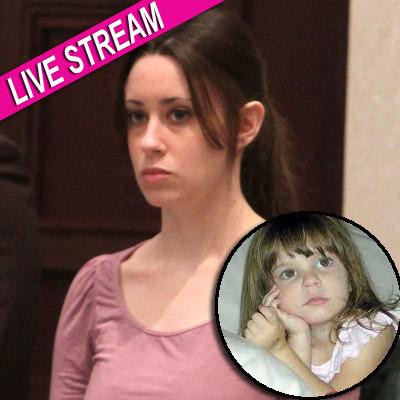 Testimony resumes Wednesday in the Casey Anthony murder trial in central Florida, and once again, RadarOnline.com is live streaming the proceedings.
In a case that has gripped the nation, the Orlando, Florida woman is charged with first degree murder in the death of her 2-year-old daughter, Caylee. Prosecutors say Casey, 25, suffocated the girl with duct tape in the summer of 2008; Caylee's body was found in a wooded area six months later.
Article continues below advertisement
During opening statements last week, the defense dropped a bombshell and claimed that Caylee accidentally drowned in the family's pool and accused Casey's father George of covering up the death and with molesting Casey as a child; he has denied both claims.
During emotional testimony on Tuesday, Casey's mother Cindy broke down in tears as she struggled to remain composed on the stand as she talked about Caylee and the discovery of her death.
Casey is charged with first degree murder and if convicted, she could face the death penalty.
The trial is expected to last several more weeks.