COURT DOCUMENTS: The Situation Sues His Own Dad -- Read The Lawsuit!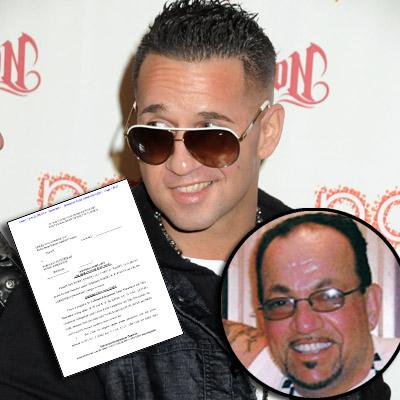 by RadarOnline.com Staff
Jersey Shore star Mike "The Situation" Sorrentino has an unlikely present for his dad as Father's Day approaches: a lawsuit.
COURT DOCUMENTS: The Situation Sues His Dad
Yes, the MTV stud has sued his estranged father Frank, in connection with a series of online rants posted to a site called theconfrontationsite.com.
In the suit, filed in Florida, The Situation said he wants his father to stop discussing him publicly, as he's devaluing his lucrative business empire. The Situation also claims he's entitled to a portion of all profits he's made as a result of using his fame.
Article continues below advertisement
The Sitch also names a second defendant in the suit, Robert M. Fletcher, and points to a detailed record of legal woes stemming from Fletcher's questionable business practices.
As we previously reported, in the series of videos, a salty Frank held nothing back on his son, telling a series of sordid stories which painted the TV star out as irresponsible, reckless and selfish.
"He created more situations for me in my life, than the name he gave himself put me in more confrontations than any boy I ever had," Frank said. "Mike says 'I'm all for family, I'm all for this' -- bulls--t!