Frank 'The Confrontation' Sorrentino Is On The Move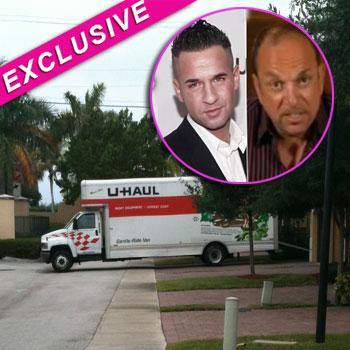 Frank 'The Confrontation' Sorrentino has packed up his bags and moved out of his swanky rented townhouse, and his neighbors are delighted!
As RadarOnline.com has been reporting, Mike 'The Situation' Sorrentino's father had fled the same gated community in Boynton Beach, Florida two years ago after bouncing $3,500 worth of rent checks.
But like a bad apple Sorrentino Sr. moved back into a similar property around nine months ago, turning heads throughout the neighborhood once again.
Article continues below advertisement
One neighbor tells RadarOnline.com: "Your story must have done the trick because on Sunday morning a U-Haul truck arrived and he started to pack up his possessions.
"He did not have that much stuff and within a few hours he was a gone. Somebody told the owner of the property and he flew down from Canada to make sure that the place was in good condition and that the last month's rent was paid.
"Frank got an advance for the book he is planning to write about his son, so he paid all the rent that he owed.
"Everyone here will be pleased that he's leaving again because he could be a real hothead at times."
Sorrentino Sr. went on a series of foul mouthed YouTube rants last week aimed squarely at his Jersey Shore star son Mike responded by filing a lawsuit against his dad in Florida.
The Situation said he wants his father to stop discussing him publicly, as he's devaluing his lucrative business empire. The reality star also claims that he's entitled to a portion of all profits he's made as a result of using his fame.