Exclusive
MUG SHOT: NJ House Hubby Joe Giudice – See It Here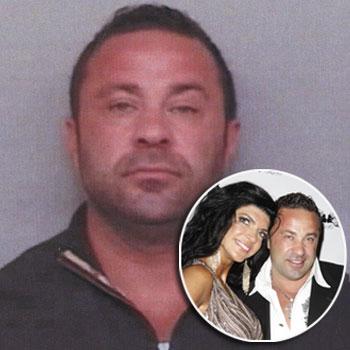 A week after Real Housewives of New Jersey star Joe Giudice was arrested and charged with fraudulently obtaining a state driver's license, as RadarOnline.com was first to report, his mug shot has been released.
Teresa's troubled husband was far from all-smiles after he was taken into custody last Friday when a multitude of police agencies stormed his house following an investigation that revealed he allegedly obtained a driver's license from the Patterson branch of the Motor Vehicle Office using his brother's identifying information in June 2010.
Article continues below advertisement
MUG SHOT: Joe Giudice Poses From Every Angle
Prosecutors plan to claim the beefcake dad of four, 40, used his brother's marriage license and birth certificate to obtain the forged license.
The same day he was arrested, his family fronted the $50,000 bail, and he was driven to the Poconos where Teresa was at a book signing.
Joe, whose real name is Giuseppe, is charged with Wrongfully Using Identifying Information of Another and faces up to 10 years in prison, as well as Forgery, which comes with a possible 18-month prison term.
This is not the reality star's first run-in with the law. He spent 10 days in jail last year for driving with a suspended license and was even detained by Dominican Republic Police in February for his part in a violent bar brawl.
Joe was charged following an investigation involving three law enforcement agencies-- the Passaic County Prosecutor, its Financial Crimes Unit and the Montville Township Police Department.