Kirstie Alley: 'It Takes TWO To Tango... On Our Feet Or On Our As*es'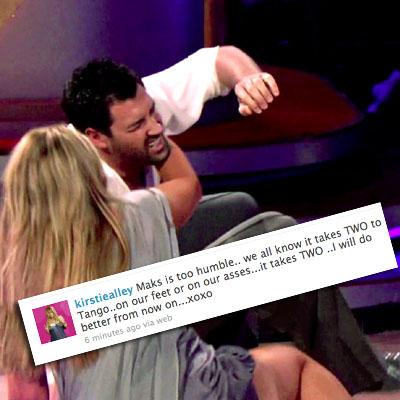 Kirstie Alley on Tuesday took half of the blame for her misstep with partner Maksim Chmerkovskiy after she and her hunky Russian dance partner fell in a heap on Monday night's Dancing with the Stars, as the witty star tweeted, "We all know it takes TWO to Tango... on our feet or on our asses."
Prior to Alley's tweet, Maks appeared on Good Morning America Tuesday and tried to downplay the injury (he suffered a muscle spasm), saying it was only a "Charlie Horse," and made it clear he was uncomfortable taking away attention from the night's standout dancers.
Article continues below advertisement
"The whole thing about the situation that makes me most uncomfortable is that I want to be ... you know my philosophy ... is that I just want to be in the background ... you know, the backbone," Chmerkovskiy, 31, told GMA with his trademark "Aw, shucks" humility. "But I want to be in the shadows and I feel like this being the most talked about moment kind of takes away from Hines Ward and from Petra Nemcova doing their phenomenal routines and even Kirstie obviously, so that's why I feel a little awkward."
Alley, however, stepped up and said the Russian heartthrob wasn't all to blame, injury or not.
"Maks is too humble.. we all know it takes TWO to Tango..on our feet or on our asses...it takes TWO ..I will do better from now on...xoxo" Alley, 60, tweeted Tuesday morning.
Even in spite of the gaffe, Chmerkovskiy and Allen regrouped and finished strong, earning a respectable 21 points on the night.
Will the fall cost Kirstie her spot on the show? Find out when Dancing with the Stars returns on ABC Tuesday at 9/8c.