Exclusive
INTERVIEW: Eliminated 'American Idol' Thia Megia: 'I Felt A Bit Devastated'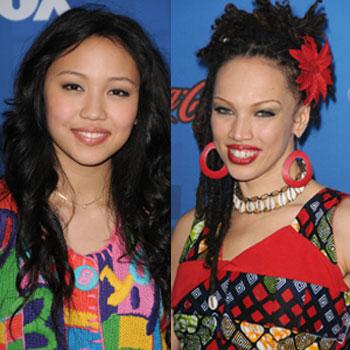 After the heartbreaking eliminations on Thursday night, two American Idol contestants were left struggling with the news that they weren't continuing in the competition.
"I felt a bit devastated last night," Thia Megia told RadarOnline.com on a conference call Friday morning.
"But I didn't cry for more than 15 minutes because I just told myself things happen for a reason this is not the end of it."
Article continues below advertisement
The 16-year-old was upbeat about her experience. "I enjoyed every bit of the competition. That is what made it really hard to say goodbye last night."
Thia addressed the criticism that she sang too many ballads and told RadarOnline.com she wished she'd been able to perform her audition song.
"For Idol week I couldn't decide between Michael Jackson or Adele but the reason why I chose Smile was just because it is a beautiful song and it is by my idol Michael Jackson but I also wanted to sing Chasing Pavements from Adele. I know I already sang it during my audition, but I didn't get to sing a 90 second version of it so I would have loved, loved, loved to have been able to sing it on the show."
Maima Adedapo was also eliminated Monday night, and she spoke to reporters about the guys still being on the show.
"More than 50% of the audience is little teenage girls and once they get a crush they dominate. It is the reality of the situation," she admitted.
She also spoke about the difficulty in leaving American Idol. "I had a moment where I couldn't hold it together saying see you later to Jacob. You get emotionally attached to these people."
Maima, 26, joked about the one thing she would really miss about not being on America Idol – shopping!
"Performing is everything, but when you get to shop and you get the shoes and the accessories. Oh my gosh I get such a kick out of that!"
American Idol returns Wednesday on Fox at 8/7c; we'll keep you up-to-date on all the happenings right here on RadarOnline.com.
RELATED STORIES: