The Biggest Loser's Jillian Michaels Tells Shape About Past Weight Issues, Admits 'I Don't Like To Exercise!'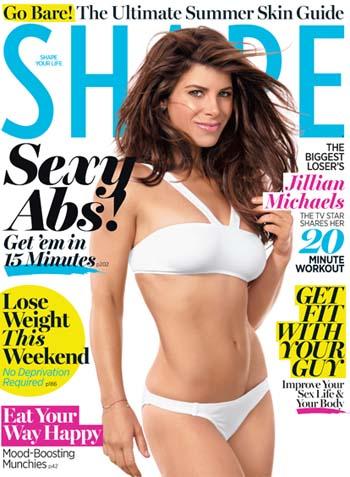 You can't always judge a book by it's cover -- even when the cover happens to be America's most renown fitness trainer with a gorgeous face, flawless figure, and glowing confidence.
Yes, we're talking about The Biggest Loser's Jillian Michaels, who candidly admits to May's issue of Shape she doesn't particularly like working out -- and has even had her own battles with the bulge over the years.
Article continues below advertisement
"I don't like to exercise: Let's face it, there are plenty of other things we'd all rather be doing," she tells Shape. "I know how good I'm going to feel when I'm finished, so I make myself do it -- but I like to get in and get out."
That's not the only surprise Michaels' candid interview has in store for you, as the sculpted hardbody admits there was even a time she could have competed on The Biggest Loser.
"I was 12 when my parents divorced," Jillian said. "I had been a chubby kid anyway, but that year was when I hit 175 pounds -- and I was only 5-feet-tall. Those were the 80s, and there was a lack of knowledge about diet. My mom thought juice was better than soda, and crackers were healthier than chips.
"Obesity wasn't on the RadarOnline.com the way it is now."
And believe it or not, even these days, Jillian claims there are parts of her fit figure she's not a fan of.
MORE ON:
The Biggest Loser
Article continues below advertisement
"There's this one dimple on the back of my butt that's like a cavern," the NBC personality said. "I swear to you, it's just un-friggin'-believable!
"No matter how thin I get, I still have cellulite. I've tried every cream ... nothing worked. I've finally reached a point where I accept my flaw, but that doesn't mean I feel good about it."
You can see more of Jillian on The Biggest Loser, which airs on NBC Tuesdays at 8/7c.
The May issue of Shape hits newsstands nationwide April 18th.