The Swag They Scored! A Peak Inside Of Oscar Nominee Gift Basket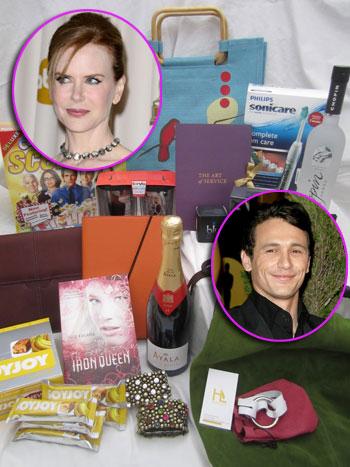 They may not have taken home Oscar gold on Sunday at the 83rd Academy Awards, but stars like James Franco, Jennifer Lawrence, Javier Bardem and Nicole Kidman didn't exactly lose out. Every major best actor and best supporting actor nominee received a fabulous gift basket from Melanie Segal's Platinum Publicity, which included over $1200 worth of swag.
Filled with goodies like top-of-the-line Sonicare FlexCare+ electric toothbrushes, Targus Z-Case Leather Portfolio and Hughes Leather Sleeves for their iPads, celebratory spirits from Ayala Champagne and Chopin Vodka and the Scene IT? Comedy Movies to unwind with, celebs were gifted an
Article continues below advertisement
assortment of the hottest products on the market.
Everyone wins, when it comes to the Academy Awards!