EXCLUSIVE BLOG: Jesse Csincsak: 'I Loved Brad's Proposal To Emily.. Well Done'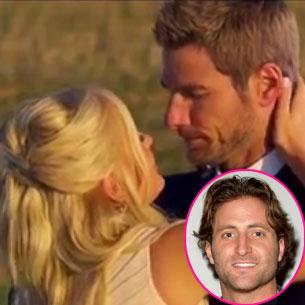 Week in and week out, The Bachelorette's season 4 winner, pro snowboarder Jesse Csincsak, has been blogging for us about Brad Womack's search for love. Now that Brad seems to have found it, let's see what Jesse has to say about it ...
OK, I am gonna try not to be long-winded after watching three hours of the Bachelor, but it's not gonna be easy. Also, I am gonna say things in today's blog that some people might not agree with ... please remember these are just my opinions and feelings from watching last night's episode.
Article continues below advertisement
OK, HERE GOES ...
Love seeing Brad get emotional when seeing his family -- it shows that he is there for the right reasons and that the PROCESS IS VERY REAL!
I have seen plenty of episodes of this show, but every season that I see a shark-watching date, that person always gets sent home as far as I can remember. Note to future daters: Stay away from the shark-watching dates...SHARKS = BAD LUCK DATE!
Emily, your last chance date with Brad was painful to watch: Are you sure you're ready? Yes? Are you sure you're sure? Yes? Are you sure that you're sure that you're really sure?
EXCLUSIVE BABY PHOTOS: Bachelor Pad's Kiptyn & Tenley -- Before They Were Famous
The guy is pouring his heart out to you, and all you can do is second-guess him? CUT HIM SOME SLACK FOR GOD'S SAKE!
Has anyone ever noticed that if you show up first to the final rose ceremony, YOU GET SENT HOME? That's because he can't propose to the first girl, because when the second girl shows up and sees the ring on the first girl's finger, THINGS COULD GET UGLY.
Article continues below advertisement
I was pretty bummed to see Chantal go home so sad -- she seems like a REAL girl who was definitely ready to settle down with Brad.
I loved Brad's proposal to Emily. It seemed very genuine and real to me. Well done, Brad.
OK ONTO THE AFTER THE FINAL ROSE ...
I was happy that after all that Chantal O went through, she seems to be happy with her guy she met after going home from the show.
Brad: You said it. -- THE MEDIA MAKES IT VERY HARD TO HAVE A PUBLIC RELATIONSHIP!
It is the hardest thing ever to see someone you love kissing and hugging someone else on TV, and the Internet and in magazines. I don't wish that on anyone but that's part of going through the PROCESS!
EMILY: I just want to say that I think you're a good whole-hearted girl and I think you and Brad make a super cute couple and I wish you both the best so this might seem harsh but ...
WHO SAYS 'I LOVE YOU' AND WE ARE ENGAGED, BUT I AM NOT READY TO MARRY YOU?
Article continues below advertisement
CHANTAL O said it -- If I am ready to say yes, to a proposal then I am ready to marry you on the spot! I am kinda curious why you said yes to the proposal?
You knew this was gonna be seen by 15 million people and YOU PUT YOURSELF & YOUR DAUGHTER OUT THERE!
What did you think was gonna happen when your man was dating 24 other girls?
If I was Brad, and you were playing these I-am-not-so-sure games with me, I WOULD SEND YOU PACKING BACK TO WHERE YOU CAME FROM.
This guy is 38-years-old: He's not looking to date for 10 years. He wants to settle down and get married, and the fact that he is putting up with the I-am-not-so-sure stuff you're pulling SHOWS THAT HE REALLY LOVES YOU!
In my opinion, being someone who has gone through this exact process, CHRIS HARRISON SAID IT BEST: You sabotaged this relationship -- it's not just about you. Brad has feelings too. I feel like all you're doing is stalling, but you really don't have a valid reason.
Article continues below advertisement
You seem to be sooo worried about what the Internet is posting about your relationship or what the magazines are printing? FORGET ABOUT ALL THAT: Focus on the man that loves you! That's all that matters.
I loved seeing Jason & Molly & Trista & Ryan & Ali & Roberto on the show giving advice. You guys said it best: Who cares about that person sitting behind a computer posting crap about you? YOU WILL NEVER MEET THEM & THEY DON'T MATTER.