Josh Brolin Slams John Travolta's Scientology Beliefs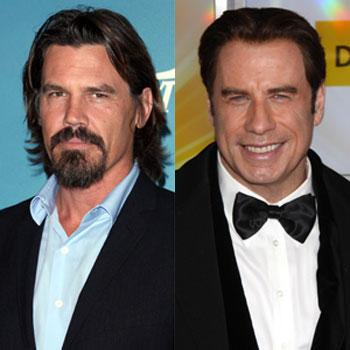 Josh Brolin has admitted to once checking out Scientology in what he called a "moment of real desperation," RadarOnline.com has learned. But he decided it wasn't for him after witnessing what he described as a "bizarre" scene of John Travolta performing a hands-on healing of Marlon Brando.
The anecdote is part of an extraordinary story about Scientology in the current issue of The New Yorker.
Article continues below advertisement
Most of the article is about acclaimed producer/director/writer Paul Haggis' decision to quit Scientology after 34 years; a public falling out that RadarOnline.com reported last year.
Brolin recalled that as he was checking out Scientology he went to the Celebrity Centre in Los Angeles and took part in "auditing" sessions.
He was then included in a dinner party where John Travolta and Marlon Brando were also guests. Brando arrived with a painful cut on his leg, Brolin said, and Travolta offered to help, saying he'd just "reached a new level" of Scientology. He put his hand over the injured area and Brando closed his eyes.
"I watched this process going on – it was very physical," Brolin recounted. "I was thinking, 'this is f**king bizarre!' Then after 10 minutes, Brando opens his eyes and says, 'That really helped'."
Travolta's rep told the magazine the incident never happened but Brolin did not back away from the story.
RELATED STORIES:
Proud Parents John Travolta & Kelly Preston: 'We're Beyond Ecstatic'