PHOTOS: Bikini Babes With Workout Videos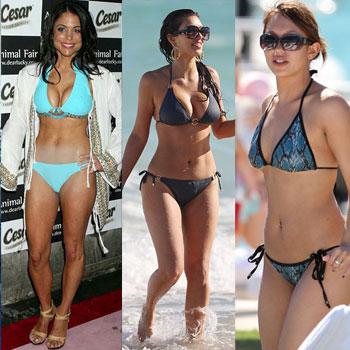 Move over Jane Fonda! You aren't the only Hollywood hottie with a workout video. Since these sexy stars have the hottest bodies on the beach, it only makes sense that they would share their secrets with the world, via a workout video. RadarOnline.com has photos of the sexiest bikini babes, who help us break a sweat!
Click Here To See All The Hottest Bikini Babes With Workout Videos
Reality television's sexiest beach bodies work hard to keep their bodies tight and toned for the tube. To look like a Real Housewife, try out Body by Bethenny with Bethenny Frankel, where the New York City star takes you through her moves. Want a tight tush like Kim Kardashian? The bootylicious Keeping Up with the Kardashians star has a video called Fit In Your Jeans by Tuesday. If you prefer Dancing your way to a perfect bod, then try out one of the Dancing with the Stars workout vids, where bikini babe Cheryl Burke helps you tango your way to sexy status. See Bethenny stripped down in her bikini here, Kim here and Cheryl here.
Article continues below advertisement