EXCLUSIVE PHOTOS: Sonja Morgan-Tremont's Burlesque Bash Draws NY's Elite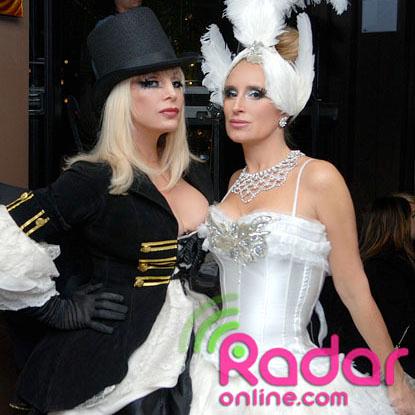 Real Housewives of New York City star Sonja Morgan-Tremont redefined the sexy style of burlesque, hosting an ultra-exclusive party New York City's Empire Hotel called Show Me Your Best Burlesque, and RadarOnline.com has all the exclusive photos for you.
According to our source at the Fishnets, Feathers and Flesh-themed affair Saturday, Sonja dazzled in a skit, clad in a full white swan regalia designed by Chris March (Project Runway).
Article continues below advertisement
"All the New York City Housewives came to support Sonja," our source said. "They were photographed in the lobby by all the waiting paparazzi, while Sonja was getting ready to make her burlesque debut."
The guest list at the exclusive bash read like a who's who of New York's social register, with names like Anna Rothschild, Dr. Brent Ridge, Robert Wynne Parry, Tina Hillstrom, Brian Farrell, Lady Lilliana Cavendish, Anthony Haden Guest, Mark Dean, Paola and Arnold Rosenshien, and Jane and Joseph Ponterelli.
Yummy treats such as crispy rock shrimp, truffle goat cheese, mini-Maine lobster rolls, tuna tartare, lamb chops, brisket and tuna sliders, were served at the swank affair, our source said.
RELATED STORIES: