Anna Nicole Bombshell -- All Charges Dropped Against Howard K. Stern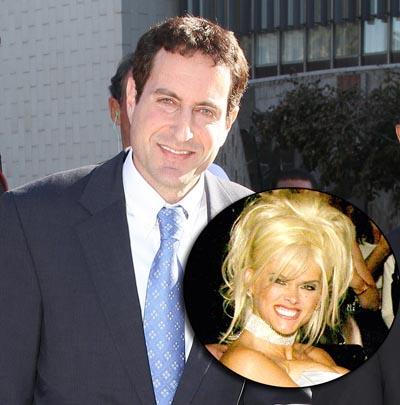 In a stunning development in the Anna Nicole Smith drug trial, a judge in Los Angeles Thursday dropped all charges against Smith's former confidant and attorney Howard K. Stern.
Superior Court Judge Robert Perry told the court that there was no evidence that Stern, 42, engaged in a conspiracy and granted the defense's request for a new trial.
Stern was expected to be sentenced Thursday after being earlier convicted of conspiring to obtain controlled substances by fraud and by providing false names.
Article continues below advertisement
Going into court Thursday, he had faced a maximum of three years and eight months in prison.
ON YOUR RADAR: Top 40 Biggest Celebrity Stories Of The Year
In another surprising development, Judge Perry dropped all charges except one against the other defendant in the case, Smith's psychiatrist Dr. Khristine Eroshevich.
The judge dropped three charges against Eroshevich, 63, and reduced the fourth charge from a felony to a misdemeanor -- unlawfully obtaining a prescription by giving a false name.
ON YOUR RADAR: The Nicest & Naughtiest Stars Of 2010!
Eroshevich -- who also faced possible prison time -- was instead given a $100 fine and given a one year unsupervised probation.
Both Stern and Eroshevich were convicted by a jury last October 28 of various charges related to the death of the former Playboy model model turned reality TV star.
A third defendant originally charged in the case had earlier been found not guilty.
Article continues below advertisement
Anna Nicole Smith was found dead in a South Florida hotel room in February, 2007 of a drug overdose. She was 39.
All three defendants were not charged directly with causing her death, but with contributing to it.
In response to Judge Perry's ruling Thursday, Los Angeles County District Attorney Steve Cooley issued the following statement:
"We strongly disagree with Judge Robert Perry's ruling today.
"The jury deliberated more than two weeks and reached a fair and thorough verdict in accordance with the law and the evidence we were allowed to present.
"Judge Perry's ruling today is totally inconsistent with his previous rulings at the preliminary hearing, the trial itself and once again when the defense concluded their case. Each time, he refused to dismiss the conspiracy counts. The evidence has not changed from that time to now.
Article continues below advertisement
"His decision denigrates the substantial investigative efforts conducted by the state Department of Justice and the Medical Board. It diminishes the huge social problem of prescription drug abuse facilitated by irresponsible caretakers and unscrupulous medical professionals.
Trio Used Fake Names To Keep Anna Nicole Drugged Says Prosecutor
"We will immediately pursue all appellate remedies to overturn Judge Perry's decision.