Be The Biggest Loser In 2011 Using Bob Harper's Contour Kettlebells!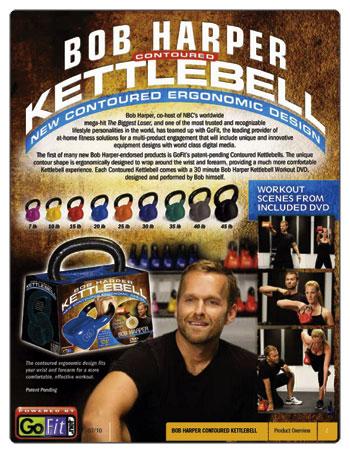 As the holiday season settles into high gear, it's time to start thinking about those resolutions. If getting fit and losing weight makes your list, get with the newest program: Bob Harper of NBC's The Biggest Loser is introducing his Bob Harper Contour Kettlebells!
The line introduces the first and only ergonomically shaped kettlebell which eliminates strain people often experience in their forearm.
Article continues below advertisement
The collection will feature 7 sizes in a variety of colors, retailing from $24.99-$99.99, and will premiere just in time for the new year! They hit shelves at TARGET stores nationwide on December 26 and are available online NOW at www.gofit.net.
Each contour kettlebell will feature a power-packed instructional DVD with training by Harper himself.
For those not yet in tune with the power of the kettlebell— which is used in workout routines by such Hollywood hotties like Lance Armstrong, Penelope Cruz, Jessica Biel, and Matthew McConaughey--- a 2010 study by the American Council on Exercise says kettlebells burn approximately 20 calories per minute during a typical kettlebell workout. That means during a 20-minute workout, you can burn an astounding 400 calories!
"I've always loved kettlebells for their great combination of toning and fat-burning cardio," says Harper.
"My Contour Kettlebells are ergonomically designed to eliminate strain on your forearm—they feel awesome when working out. Each kettlebell includes a workout DVD with world class instruction right out of the box, so you can start shredding fat and toning muscle instantly for real results."