A Holiday Toast With Personal Flair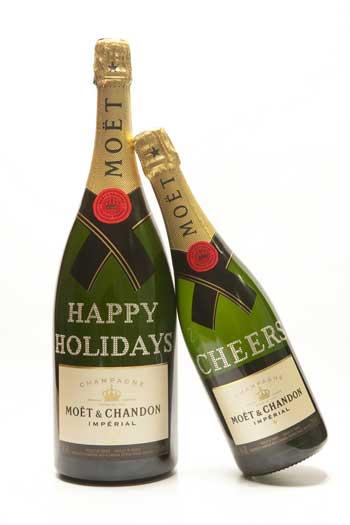 While the champagne aisle is filled with an endless array of choices, the wisest shoppers this holiday season will head to Moet & Chandon's online atelier MyMoet.com.
The interactive website allows lovers of the bubbly to create personalized messages on a bottle of Moet & Chandon Imperial.
In keeping with the luxury theme, the message will be written in the finest silver Swarovski crystals on either a 750 mL (up to 7 characters) or a Magnum bottle (up to 16 characters).
Article continues below advertisement
For those last-minute shoppers: order by December 20 and it will ship in time for Christimas!
Customers near New York can head to the flasgship Saks Fifth Avenue store to visit the in-store MyMoet kiosk located on the 8th floor to get bottles customized on-the-spot. Not sure what to engrave? Snag the commemorative bottle with the Saks Snowflake!
The bottles start at $90 and celebrities including Anne Hathaway, Claire Danes, Kanye West and Marc Jacobs all have their own!