PHOTOS: Jon Gosselin Picks Up The Kids From School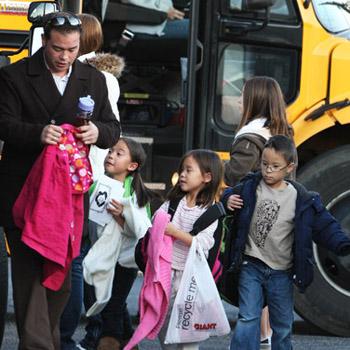 He may have taken a beating over his parenting skills, but Jon Gosselin shows that he can be a good dad as he picks up several of his kids after school, and RadarOnline.com has all the best pictures.
Jon seemed to have a little trouble getting the kids from their school bus into his van. Those darn backpacks kept getting in the way.
Of course John only had four of the sextuplets to contend with. Collin and Alexis were reportedly kicked out of school because of unruly behavior and they've been spotted at home playing while their sibs go off to class.
Article continues below advertisement
As RadarOnline.com exclusively revealed, Jon and and his Kate Plus 8 star wife have come to an amicable agreement for Thanksgiving. Kate will have the kids on Thursday and Jon will have them the next day, with both parents celebrating the holiday at their respective homes.
RELATED STORIES:
EXCLUSIVE: Jon & Kate Gosselin Bury The Hatchet For Thanksgiving, Will Share Custody Of Kids