Katharine McPhee Celebrates Christmas CD Launch With Diamonds And Friends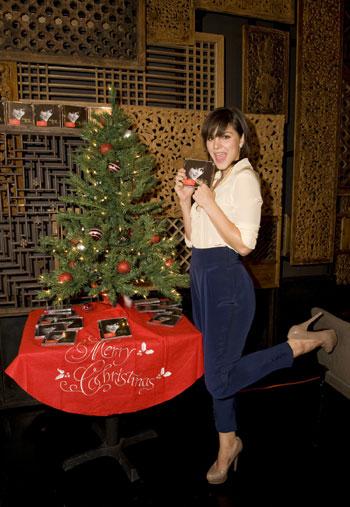 On Thursday night, Katharine McPhee celebrated her new holiday album Christmas Is The Time To Say I Love You with a very special dinner with friends at Koi restaurant in Los Angeles. While her guests received their very own (signed!) copy of the new cd, the gorgeous singer got her own early Santa gift: at the end of the night she was given two Everlon Diamond Knot bangles!
"It is such a special moment celebrating the launch of my CD and I feel like a princess," an excited McPhee said afterwards, gleefully posing with the stunning pieces.
Article continues below advertisement
The new cd, which is on sale now, showcases McPhee's silky and soothing voice covering classics like Jingle Bells, Oh Holy Night and Have Yourself A Merry Little Christmas. McPhee's flawless delivery makes the compilation an instant addition to any holidays collection. While the songs are given a modern touch, they remain true to their classic forms. The cd is like a cashmere sweater: timeless and always delivers a comfortable haven to sink into.
Katharine also added another personal touch to the album: she co-wrote the song It's Not Christmas Without You.
Also on the American Idol alum's plate: acting. She spent the last two months in Shreveport, Louisiana filming Shark Night, a 3-D action thriller about a group whose lake house vacation is jeopardized by shark attacks. The film was helmed by David R. Ellis, the director of the sleeper hit Snakes on a Plane.
The film marks a departure from McPhee's girl-next-door image.
"People have this specific image of you," McPhee told the Chicago Tribune. "They don't expect you to play a sexually outspoken character. I think (Beth) is a cool chick. She has tattoos and piercings and is a little more of a free spirit."
For those who still haven't gotten enough of an early holiday fix, you can go caroling with Katharine! She is creating a virtual carol/video of her version of Jingle Bells and want fans to pitch in by sending videos of themselves singing the song. Click here for more information on how to submit!