Trend Alert! Stars Get Energized With Power Balance Wristbands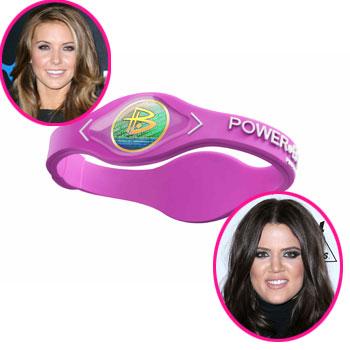 Hollywood is going crazy over Power Balance wristbands! The fabulously colored and fashion friendly bands, which are designed to work with your body's natural energy flow, have been spotted on everyone from athletes David Beckham and Lamar Odom to reality babes Audrina Patridge and Khloe Kardashian. What's the deal with this trendy new sports technology and why are celebs rocking them like Hermes bangles?
Article continues below advertisement
Founded by athletes, the holograms in Power Balance silicone wristbands are designed to optimize the body's natural energy flow, similar to many holistic and Eastern philosophies.
The bands are available in a plethora of colors, with most retailing for $29.95. If you have a charitable agenda, Power Balance has a pink wristband in honor of Breast Cancer Awareness Month and also a teal band, of which $15 of every purchase is donated to the Ovarian Cancer Research Fund.
For more information and to purchase Power Balance wristbands, click here.