PHOTOS: The Best, Worst & Wackiest Fashions Of The Week!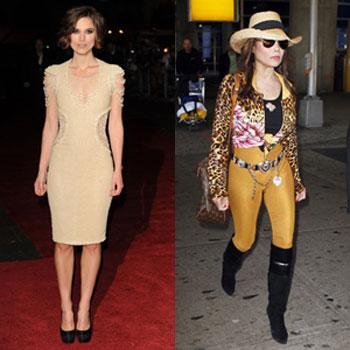 From the glam-packed red carpets of international films festivals to the streets of NYC, stars were dressed in the best, worst and wackiest fashions this week and RadarOnline.com has all the hot and hilarious photos!
Keira Knightley scored our top honors for the swanky and oh-so-sexy Chanel Couture frock she rocked on the red carpet of the London Film Festival premiere of Never Let Me Go. The newly bobbed beauty, who was joined by her pixie perfect costar Carey Mulligan, paired the ivory-hued, cutout knit number with black satin platforms for a flawless finish.
Article continues below advertisement
If La Toya Jackson really does have psychic powers, wouldn't she have been able to realize ahead of time, that gold spandex mixed with leopard print would land her as the Worst Dressed star of the week?
Adam Sandler had us humming to the tune of Aerosmith's Dude Looks Like A Lady, dressed in drag on the set of his latest movie, while Mr. T resurrected his 1980's camouflage A-Team uniform in NYC.
Jennifer Hudson and Hilary Duff both scored style points with their powerful purple fashions. While the former American Idol hit the stage of the Andre Agassi Grand Slam For Children Concert in Las Vegas in a gorgeous Michael Kors gown, the former teen star promoted her first book in NYC, wearing a sharp-shouldered Alexander McQueen pencil dress to perfection.
Marissa Miller, Hilary Swank, Elizabeth Hurley and Lisa Rinna all heated up the style scene in super sexy Herve Leger dresses this week. If we had to pick a wardrobe winner out of that gorgeous group, we would be at a loss. Kudos to Max Azria for dressing all those fine females to impress!
From the pumpkin patch to the tarmac, who else rocked and shocked on the fashion front this week? Find out in RadarOnline.com's weekly feature!