The Look Of Love? The Best And Worst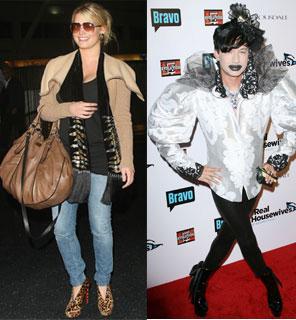 With so many Hollywood splits over the past few days, it is important to remember that love is still in the air with some of our Hollywood friends!
Take Jessica Simpson, for example, who definitely has that sparkle in her eye! The blonde beauty was spotted in New York City with her mom and hunky beau Eric Johnson, hopping on a flight at JFK looking happy and hot in fab fashion. Showing off her suddenly slender legs in skinny jeans and leopard Louboutins, the older Simpson sister added a black tank, camel colored sweater, metallic foiled scarf, and last but not least, a beaming smile!
Article continues below advertisement
If Jessica has the look of love, then Bobby Trendy has the look of death! The wacky interior decorator hit the Los Angeles premiere party for The Real Housewives of Beverly Hills wearing black and white from patent leather boot to hair bow. Going over the top in his usual attention-seeking way, he even painted his face white and sported black lipstick! Someone needs to remind him that Halloween is still a few weeks away.
Newlywed Hilary Duff definitely had that blissful look at Borders bookstore in NYC. Wearing skintight leather pants with towering heels and an oversized black blazer, the young actress looked totally chic as she signed copies of her first book Elixir. Congrats, Hilary!
Katherine Heigl spent the day with her crooning hubby Josh Kelley, looking lovely in layers as the two strolled near their Los Feliz home, and Anna Paquin spent the day with her birthday boy -- on and off screen love Stephen Moyer, walking hand in hand out of Barneys New York in Beverly Hills.
Who else rocked and shocked on the fashion front on Monday? Find out on RadarOnline.com.