Exclusive
EXCLUSIVE DETAILS: Inside Lindsay Lohan's Treatment At Betty Ford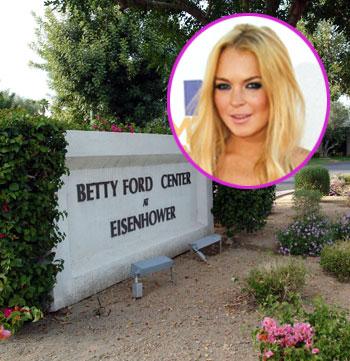 Lindsay Lohan's recent admission into rehab for a fifth time incites a mixture of tentative hope and hardened skepticism about her sustained sobriety.
As the Mean Girls star, 24, attempts to recover from her addictions and personal issues at the famous Betty Ford Center in Rancho Mirage, California, RadarOnline.com takes a look at the treatment her friends, family, and fans hope will help Lindsay finally turn her life around.
Article continues below advertisement
According to a source who has gone through the same program, Lohan's routine will consist of early morning wake up calls, gourmet food, meditation, chores and gym time alongside a considerable amount of therapy.
Below is a general breakdown of Lindsay's daily regimen:
7 am wake up call
7:30 am breakfast (this consists of an omelet cooked to her liking or her choice of cereal, pancakes, fresh fruit)
8 am meditation followed by chores (chores are assigned during the first four days depending on Lindsay's attitude)
9 am group therapy
11 am individual therapy
12 pm lunch
1 pm grief group
3 pm exercise (Lindsay can only work out in the gym or do water aerobics)
4 pm meeting
6 pm dinner
10 pm lights out
According to the source, Lindsay will have free time at the end of each day to spend as she likes. She will be able to receive family visitors in her third week. Families are also encouraged to participate in group therapy.
Phones are only permitted on Sundays and Lindsay won't be able to watch television. She is also not allowed to consume caffeine, but smoking is allowed in a designated area.
Following her 28 days in the program, Lindsay will be moved to after care, a residential townhouse off hospital grounds.
She'll room with five other women and will have to attend all meetings and share in at least three meetings in order to complete the program.
Article continues below advertisement
The insider tells RadarOnline.com that Lindsay will be treated no differently than anyone else at Betty Ford.
Contrary to what her father Michael Lohan said about the center being a country club (he has also received treatment there), our source says the program is actually very strict and doesn't change its routine for anyone- including celebrities.
When her family comes to visit at the allowed point in the program, they can only visit on Sundays. They will be searched for cell phones and cameras and are not permitted to bring in purses.