Bolton VS. Bruno! Booted Singer Returning To DWTS After Susan Boyle Drops Out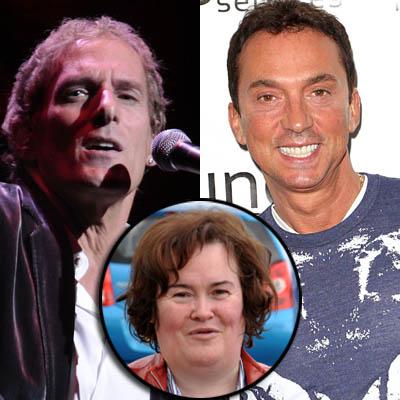 In a surprising move, Michael Bolton will return to ABC's Dancing with the Stars Tuesday night to perform after the scheduled singer, Susan Boyle, canceled at the last minute - setting the stage for a showdown between the booted Bolton and judge Bruno Tonioli, who called his Hound Dog dance "the worse jive in eleven seasons."
On Monday night's show, host Tom Bergeron announced Bolton would replace Boyle, who bowed out due to a sore throat.
Article continues below advertisement
"Her doctor advised her not to sing due to a severe throat infection," a representative for the Scottish songbird said in a statement. "Susan is very upset at letting her fans down. Their continued support means so much to her."
Bolye's second album is due out later this fall, and she was rumored to perform Leonard Cohen's Hallelujah on DWTS' Results Show.
After he was voted off DWTS last week, Bolton told Good Morning America that Tonioli should publicly apologize for being "inappropriate and disrespectful." The show's producers did not agree.
"While we respect the feelings of our celebrities and dancers," the producers said in a statement, "we don't feel Bruno should be expected to apologize for doing his job."
In addition to Bolton taking the stage, R&B singer Ne-Yo will also perform Tuesday night, marking the television debut of his new single One in a Million.
Dancing with the Stars airs Tuesday at 9 p.m. on ABC.