PHOTOS: Mark Ballas Snapped Changing Clothes In Alaska Airport!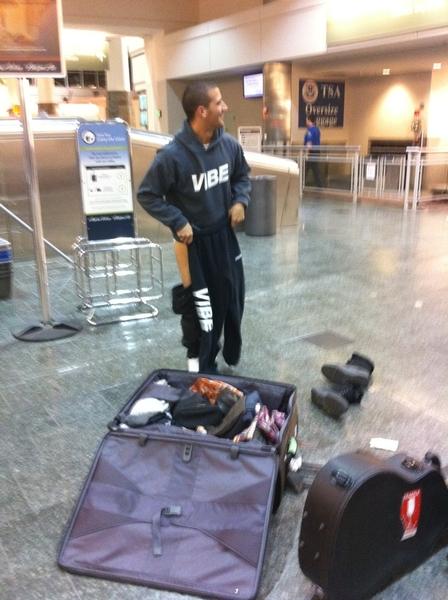 Mark Ballas posted a funny photo of himself on Twitter Friday showing him in his tighty-whities as he changed clothes in the middle of an airport in Alaska, which leads us to ask: Who does that?
Ballas - now back home in Los Angeles - had a whirlwind trip to Alaska this week with Bristol Palin, his 'celeb' partner on Dancing With The Stars.
Ballas crammed a lot into his time in the 49th state, as he Tweeted pictures of all of his star-crossed comings-and-goings, which included taking a plane ride over a glacier, showing off his Bearpaws boots, and even meeting Bristol's mom, Sarah Palin.
Article continues below advertisement
"Me and Mama Palin... Alaska is awesome...." he Tweeted of his pic next to the former vice presidential candidate.
Ballas even played an acoustic show at a local venue, Bristol survived the show's first week with an 18-point cha-cha-cha. Looking ahead, Ballas told RadarOnline.com exclusively the couple's next dance will be one of smoothness, speed and balance: the quick-stop.
We'll get to see if Ballas and Bristol made progress when Dancing With The Stars returns on ABC next Monday at 8/7c.