Oh My Gawd -- Jerseylicious is Back!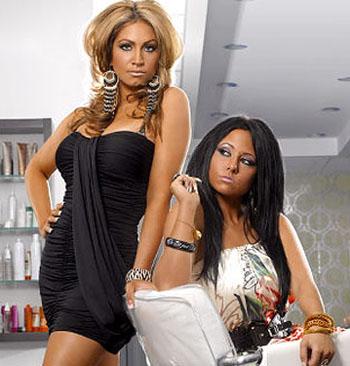 You can get your fill of poofy hair and hot tempers on shows like the Jersey Shore and Real Housewives of New Jersey. But, holy canoli, nothing is quite as juicy and glamorous as the hair stylists and make-up artists of the Gatsby Salon on the Style Channel's Jerseylicious! If you missed out on any of the drama last season—here's your guide to each cast member's excitement from last season and what to expect in season two - premiering Sunday, September 5th at 8 pm ET.
Article continues below advertisement
Gayle and Christy: The mother/daughter management team of Gatsby's Salon. Before passing away from a heart attack Gayle's second husband was the Gatsby's original owner. We first met Gayle as she decides to give the salon a makeover in a brand new space. Christy works hard alongside her mom to keep things running smooth—all while trying to start her own family with her husband.
Olivia: The ultimate drama queen—she's a make-up artist with big dreams of opening her own salon one day—but she's better known for the big cat fights she has with her rival – Tracy, the aggressive hair stylist.
Tracy: Speaking of Tracy, with only two years in the business, she has a lot to brag about with her success. She claims she has "gangsta heart" but it usually gets her into a lot of trouble.
Article continues below advertisement
Alexa: She's one of the best make-up artists at Gatsby but has her own popular side business doing make-up for Jersey brides. Despite her fake boobs and affinity for knockoff looks—she calls herself the Glam Fairy and it works!
Gigi: She's a young hairdresser that wants nothing more than to be married and have kids—but her on again, off again relationship with her boyfriend Frankie makes it near impossible.
Anthony: He's straight, married and a hair stylist. And in pure Jersey style, he fully admits he got into the business to meet women. His own salon is undergoing a makeover which is why he's working amid the drama at Gatsby.
Exclusive Video: Jerseylicious Girls Give Hollywood Starlet A Jersey Make-over
And now the scoop on season two:
Gayle continues to reign the salon to keep business booming, make sure everyone is getting along (which is a near impossible feat) and get ready to take on a brand new role—grandma! Christy is finally pregnant. She's self conscious about her growing stomach at first—but then decides to take the Jersey approach with a baby bump photo shoot complete with leopard and lace!
Article continues below advertisement
Anthony's own salon is now ready and the renovations are complete but he just can't say good-bye to his new Gatsby family quite so fast!
Alexa has chosen Olivia to become her "Glam Fairy" apprentice and they have more clients than they know what to do with—which Gayle does not appreciate when she realizes they're making Gatsby less and less of a priority.
Tracy and Olivia are still at each other's throats—definitely doesn't help that Tracy's boyfriend Lorenzo is actually Olivia's ex. Tracy asks him for help at an event at her beauty school alma mater so they can all see how far she's come since she was a student.