Gamers: Have It Your Way All-Around With Sound Blaster Tactic 3D Headset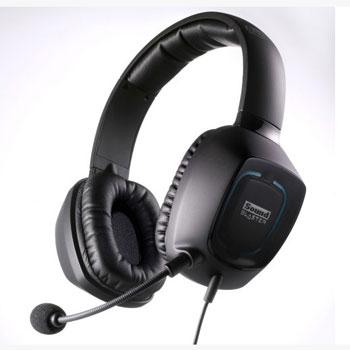 Electronics innovators Creative Wednesday announced their new line of Tactic 3D gaming headsets, which feature THX TruStudio Pro technology for a completely customizable and immersive 3D audio experience.
Two gaming headsets coming out this month -- the Sound Blaster Tactic 3D Alpha and Sound Blaster Tactic 3D Sigma -- are the first of their kind to feature customizable profiles, for the perfect audio experience every time, in addition to a lightweight design that allows for marathon gaming sessions.
Article continues below advertisement
New World Of Warcraft Wireless Headset Available At Amazon
"Creative gaming headsets are the only headsets in the world to deliver a true 3D immersive experience, with sound coming from around you, above you and from below," Creative's Steve Erickson told RadarOnline.com.
"As games have evolved and 3D video has become the norm, Creative headsets with THX TruStudio Pro are the perfect complement, providing gamers with a completely immersive, mind-blowing 3D audio and video experience." Creative's Ryan Schlieper said that the new headsets offers "gamers control of every nuance of the way their games sound, allowing them to customize their own TacticProfile, which can then be shared with other gamers," noting that they even come with pre-configured profiles, so you can play with the same exact setting as renowned gamers such as Johnathan "Fatal1ty" Wendel.
New Red Dead Redemption Downloadable Content
The Sound Blaster Tactic 3D Sigma sells for $89.99, while the Sound Blaster Tactic 3D Alpha sells for $59.99. For more information on all of Creative's gaming products, check out Soundblaster.com.