Gadget4All Keeps Your Mitts Purring With Warmth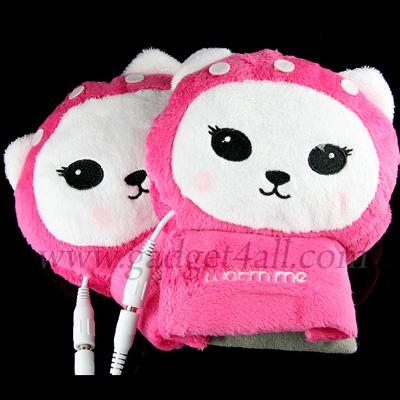 Ladies, its that time of year again: the weather's cooling off, so's your house and those long sessions of e-mailing, Tweeting, Facebooking -- and of course, logging onto RadarOnline.com -- have gotten a little chillier.
No need to despair, or rush out for that heater to surf the net for long stretches. Instead, pick up a pair of Gadget4All's Kitty USB Hands Warmer, a pair of Kitty-themed gloves you can power right through your USB port.
Article continues below advertisement
With its built-in heating pads, the plug-in mitts work just like thermal underwear on your hands, warming up to 46 degrees in five minutes and giving you relief from the frosty-finger syndrome synonymous with the cold winter months.
Review: Talk About A Killer Drink!
And of course, the mittens easily disconnect from the plug-in wires to make a feline fashion statement even when you're not perched at the helm of your keyboard.
The Hands Warmer, which comes in pink and blue designs, also makes a great birthday or Christmas gift, as well. $22.50