Exclusive
EXCLUSIVE: Lindsay Tested Positive Because I'm Not In Her Life, Claims Dad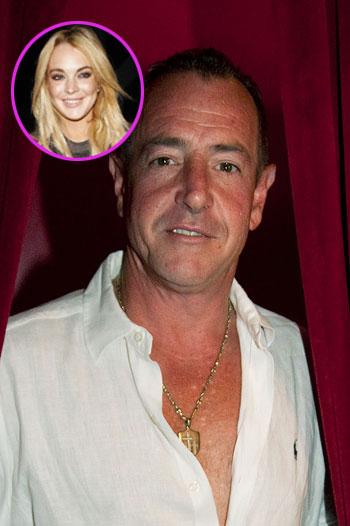 Lindsay Lohan has blamed the turmoil within her family, specifically the "trauma" her father Michael Lohan caused in her life, for pushing her towards unhealthy habits. In an exclusive interview with RadarOnline.com, Michael says Lindsay wouldn't have tested positive for cocaine last week if she would only let him back into her life.
Listen To The Interview Here
"Her manager and her friends failed, they failed beyond belief and I will do all that I have to call them out," Michael said. "I'm sorry, I'm really sorry. I wish she would just listen to me and just let me into your life. I'm telling you if you had me in your life this never would happen.
Article continues below advertisement
"If she had her father in her life she wouldn't have this inner turmoil. She wants to numb the pain."
While he says his daughter clearly is at fault for her current struggles, he continued to place heavy blame on her enablers. "You want people around you that are going to say no. When there's people around you that just want to have fun, are those the people you want in your life? I've said it . Everything that is hidden comes to light...Even with Dina you can't lie and get away with it. You can't hide from it. We all care about Lindsay."
Right now, Michael says what Lindsay really needs the most is her family. "The only thing I've seen is the Vanity Fair article before Lindsay went to jail and they got her in a very vulnerable state and tried to drag things out of her... She's at a point when she wants her mom and her dad there.
"She needs her mother, her father, her sisters, her brother. She needs harmony. If she doesn't have that pain she won't have any need for drinking and drugs in her life."
Article continues below advertisement
According to the terms of Lohan's probation, she could get 30 days in jail for a positive test. Michael disagrees with that consequence. "I don't think my daughter should go to jail. I think in a fair system they should put her in rehab and put her into a long-term rehab system."
EXCLUSIVE VIDEO: Lindsay Lohan Involved In Hit-And-Run; Clips Baby In Stroller - Eyewitnesses Claim
Michael also addressed the effects his divorce with Dina has had on his children. "When Lindsay was at the height of her career, her mother and I were together…and you never saw us in the press because she had her parents." He also acknowledged that his continued tension with his ex-wife continues to be a detriment.
"You don't want to have your mom and dad in a a boxing ring…They want to have their mom and dad in harmony saying we're here for you," he added.
EXCLUSIVE: Lindsay Lohan Confirmed To Host Saturday Night Live
"She needs inpatient rehab and her mother and father to finally sit down to resolve their differences and put a stop to this nonsense...she needs to get therapy and has to get her mom and dad in the right place and we have to be there for her."