TV: Wednesday Hot List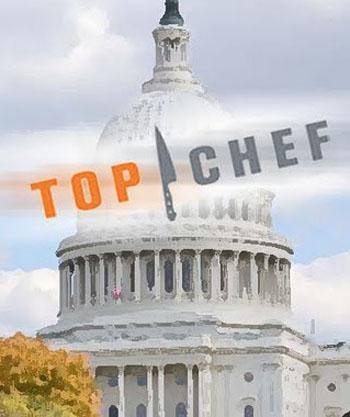 Things heat up on Top Chef: Washington D.C. when the cheftestants latest challenge becomes a matter of national security! Yes, they must transform famous dishes into entirely different entrees—and then serve up their creations inside the CIA headquarters to CIA director Leon Panetta and his allies!
To keep up with the food world, check out the Food Network for Throwdown with Bobby Flay where he goes up against banana cream pie experts from Baked Bakery in Boston. And on 24 Hour Restaurant Battle, a father and son open up a modern Filipino-American restaurant while two best friends collaborate on a vegetarian style place!
Article continues below advertisement
8pm
MasterChef (FOX)
Minute to Win-It (NBC)
Big Brother 12 (CBS)
9pm
America's Got Talent (NBC)
Plain Jane (CW)
Confessions: Animal Hoarding (Animal)
Throwdown with Bobby Flay (Bravo)
Ghosthunters International (SyFy)
Man vs Food (Travel)
Dark Blue (TNT)
Man v Wild (Discovery)
LA Ink (TLC)
10pm
Top Chef: Washington D.C. (Bravo)
Criss Angel: Mindfreak (A&E)
Monsters Inside Me (Animal)
24 Hour Restaurant Battle (Food)
Real World (MTV)
Hot in Cleveland (TV Land)
Psych (USA)
LA Ink (TLC)