TV: Tuesday Hot List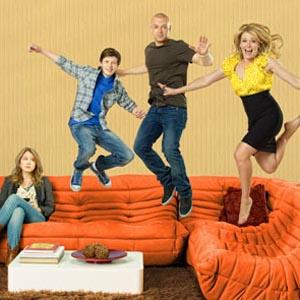 Whoa! Joey Lawrence and Melissa Joan Hart are back on TV and together again on the new ABC Family sitcom aptly titled Melissa and Joey. Melissa plays a busy politician raising her nieces and nephews—and Joey is the hot nanny (or manny) that she hires to help out!
Teen Mom is one of the most heartbreaking, guilty pleasures on TV. It's one of the first reality shows that really is, well, real and the struggles these young moms face are so compelling. Tonight, after Amber finally got the commitment and ring that she wanted from Gary—she begins to question their engagement. Tyler and Caitlin's relationship is back on the rocks and poor Farrah's luck gets even worse when she is the victim of a scam.
Article continues below advertisement
8pm
Wipeout (ABC)
Hell's Kitchen (FOX)
Melissa and Joey (ABC Family)
8:30pm
Melissa and Joey (ABC Family)
9pm
America's Got Talent (NBC)
Shaq VS (ABC)
18 to Life (CW)
Make It or Break It (ABC Family)
Hawthorne (TNT)
White Collar (USA)
19 and Counting (TLC)
Flipping Out (Bravo)
9:30pm
18 to Life (CW)
Growing Up Twisted (A&E)
10pm
Rachel Zoe Project (Bravo)
Teen Mom (MTV)
Chopped (Food)
Memphis Beat (TNT)
Rescue Me (FX)
Covert Affairs (USA)
Hair Battle Spectacular (Oxygen)
11pm
If You Really Knew Me (MTV)