TV: Thursday Hot List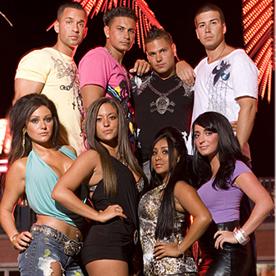 Oh Jersey Shore, why do we love watching you so? Tonight the never ending "I love you" "I hate" "Wait, I love you" cycle of Sammi and Ronnie's toxic relationship gets worse. How? Sammi finds the "anonymous" letter from the girls that reveals all of Ronnie's club night hookups and decides that she is officially done. We'll see...
On The Real Housewives of DC, Lynda moves out of her Georgetown apartment into a mansion! And Michaele and Tareq have yet to crash the White House but Cat is already suspicious of the couple. So, in an attempt to get back in with the group, Michaele invites the wives to her winery for an old-fashioned wine stomp.
Article continues below advertisement
8pm
Big Brother 12 (CBS)
Extreme Cuisine with Jeff Corwin (Food)
9pm
Rookie Blue (ABC)
The Real Housewives of DC (Bravo)
First 48 (A&E)
Project Runway (Lifetime)
Smokin' Gun Presents: The World's Dumbest Criminals (Tru)
Burn Notice (USA)
American Chopper: Senior vs Junior (TLC)
10pm
Nightline Prime: Secrets of Your Mind (ABC)
The Squad: Prison Police (A&E)
Jersey Shore (MTV)
Ace of Cakes (Food)
BBQ Pitmasters (TLC)
Royal Pains (USA)
You're Wearing That? (WE)