TV: SUNDAY HOT LIST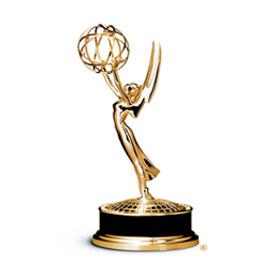 It's here early this year and we couldn't be more excited—the 62nd Annual Primetime Emmy Awards are on tonight with Jimmy Fallon as host. The biggest nominees are Glee (with 19 nominations) and HBO's The Pacific (with a whopping 24) but our wish list includes gold statuettes going home with stars from Modern Family, 30 Rock, True Blood, Dexter and Mad Men. George Clooney also gets a big honor this evening with the Bob Hope Humanitarian Award.
Article continues below advertisement
But if you need something a little lighter or just can't help but keep up with those crazy Kardashians, there's an all new episode of, well, Keeping Up with the Kardashians. Kris sets up Kim on a blind date with yet another athlete (haven't athletes broken her heart enough?) and Khloe feels the pressure while her husband Lamar (of the LA Lakers) is in the midst of the NBA finals.
8pm
62nd Annual Primetime Emmy Awards (NBC)
Big Brother 12 (CBS)
Hoarding: Buried Alive (TLC)
Food Network Challenge (Food)
9pm
Rubicon (AMC)
The Cove (Animal)
The Great Food Truck Race (Food)
True Blood (HBO)
Drop Dead Diva (Lifetime)
Hoarding: Buried Alive (TLC)
Bridezillas (WE)
10pm
Keeping Up with the Kardashians (E!)
The Glades (A&E)
Mad Men (AMC)
Iron Chef America (Food)
Hung (HBO)
Lottery Changed My Life (TLC)
Amazing Wedding Cakes (WE)
Snapped (Oxygen)
10:30pm
Entourage (HBO)
The Spin Crowd (E!)