There's Black Gold In Fox's SYTYCD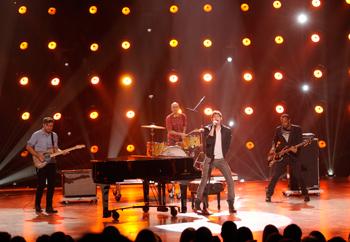 FOX's So You Think You Can Dance is best known for making unknown dancers' dreams come true, and now the hit show can also stake claim to breaking music acts on the rise.
Millions of fans had grown to love the melodic pop ditty Shine by Brooklyn-based indie rockers Black Gold -- which was cued as the swan song for each week's eliminated dancer -- and on August 12, they were treated to a live performance of the song during the show's season finale.
Article continues below advertisement
"We felt incredibly blessed to just have our song used on the show each week for month," Black Gold frontman Eric Ronick tells RadarOnline.com exclusively. "But when we got the word that they wanted us to perform it live, we knew this would be a big moment for our band.
As a result of their appearance on the show, Black Gold experienced a sales increase that more than doubled the amount of singles they'd sold previously, and pushed Shine to #9 on the iTunes Alternative Singles chart.
"The experience was incredible," says Eric. "Though we didn't meet fellow guest Ellen DeGeneres, we did get to meet choreographer Kenny Ortega, who I really connected with during our performance. He's worked with some of the greatest musicians of all time, so him telling me he loves our band made my night."
The band also was pleased to get good feedback from the show's judges: Nigel Lythgoe, who told the band he personally chose their song for the show, Adam Shankman and Mia Michaels.
This season, SYTYCD also plucked singer/songwriter Christina Perri from obscurity when they played her song Jar of Hearts during a dance routine and later invited her to perform it live. This kind of integrated exposure is proving to be a new alternative to radio play. As a result, Christina independently sold over 200,000 singles, and then signed her first record deal with Atlantic Records.
"It doesn't really feel real yet. It's been a whirlwind," she said recently. "For like 17 days, I keep pinching myself. I don't want to sleep because I'm afraid I'm going to wake up or something. But it is real, and So You Think You Can Dance has just changed my whole life."