Spencer Pratt Takes A Jab At Justin Bieber And Fans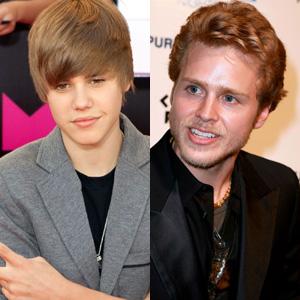 Don't look for Spencer Pratt to catch "Bieber Fever" anytime soon.
Pratt, 26, broadcast his feeling about the teen heartthrob and all the hype that surrounds him on Monday with a venom-laced Tweet aimed at the 16-year-old pop culture sensation and his rabid fan base.
"Knew someone who caught Bieber Fever," Pratt Tweeted Monday morning. "Only decent thing to do was put him down."  
But don't expect the Canadian hit-maker to get too down about the Spencer slight. Just prior to Pratt's Tweet, Bieber -- who was crowned Choice Male Artist at Sunday's Teen Choice Awards -- lashed out at his own critics with a Tweet that said "hate is a funny thing. can't really let it get 2 u. just need 2 laugh and let it entertain u. it's actually pretty funny that way. HI HATERZ."
Article continues below advertisement