Putting On The Ritz: Ritz-Carlton, Laguna Niguel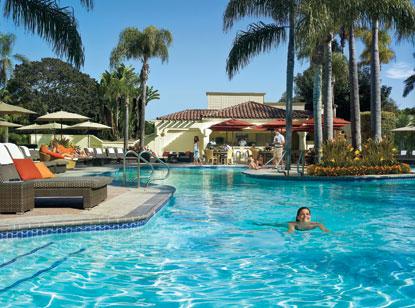 The words "Ritz Carlton" conjure up images of luxury, beautiful resorts in exotic locations and world-class service. From the restaurant to almost every room, you have an ocean-view.
With the "perfect break" the area is known for its surfing and the hotel capitalizes on this by offering surf lessons (Billabong Surf Experiences.) There is also staff down AT the beach to provide towels, chairs, water, boogie boards, sunscreen which makes going to the beach a breeze. Dana point is also an ideal place to golf so the Ritz also offers access to numerous local goft courses.
Article continues below advertisement
The pool area is small, but most visitors of the hotel are at the beach. The food in the restaurant is ambitious, especially for a hotel, but the chef pulls it off, especially with the fresh seafood offerings.
This summer the Ritz offers a terrific program, especially for children, called the Jean‐Michel Cousteau's Ambassadors of the Environment, which "features a new environmental and cultural education center with excursions lead by expert naturalists." It is a hands-on experience, and embraces all aspects of Southern California's natural wonders – kelp beds, the intertidal zone, the sandy beach, terrestrial ecology, native culture, and sustainable living.