No Better Than This: New Music Releases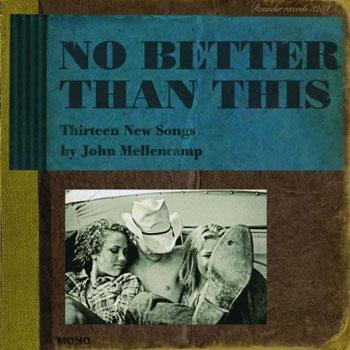 John Mellencamp's 25th album is entitled No Better Than This and features 13 new songs produced by T. Bone Burnett. The 58-year-old heartland rocker, who has sold 40 million records to date, will tour throughout the end of the year, including a performance at the 25th anniversary Farm-Aid concert in Milwaukee on October 2nd...
Trace Adkins is back with Cowboy's Back in Town, which features the single "This Ain't No Love Song"...
Article continues below advertisement
Singer-songwriter Ray LaMontagne's new offering is God Willin' & The Creek Don't Rise. The album was self-produced...
Head Beach Boy Brian Wilson offers up covers of classic songs by songwriters George and Ira Gershwin on Brian Wilson Reimagines Gershwin...
Filter's new album is called The Trouble With Angels and was produced by Bob Marlette...
American Hi-Fi's new album, Fight the Frequency, was produced by singer-guitarist Stacy Jones...
The Final Frontier is the latest from Iron Maiden...
David Gray releases Foundling, which is his second offering in less than a year...
Live at the Treehouse is the latest from Joe Firstman...
The soundtrack to the new Jennifer Aniston flick The Switch features tunes by Eels, Jamiroquai and Mojave 3...
Taking Back Sunday releases Live from Orensanz, a live album that was recorded at a New York synagogue...
Someone Still Loves You Boris Yeltsin is back with Let It Sway, an album that includes production by Death Cab for Cutie's Chris Walla...
Dexter: Season 4 — Music from the Showtime Original Series includes several songs by Daniel Licht, as well as favorites by David Bowie, Frankie Avalon and Culture Club...
Andrea Bocelli releases Carmen: Duets & Arias...