Man Selling Tiger Woods' Irons Via Online Auction Site, Again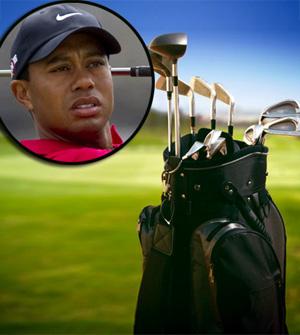 Steve Mata's taking a mulligan.
Mata, a golf manufacturer, has re-listed a set of irons he claims recently-divorced serial cheater Tiger Woods used to win the 2001 Masters Tournament on Green Jackets Auction site, for a price starting at $1,000.
Mata claims Woods also used the irons to win three majors in 2000. 
Mata had previously tried to sell the same irons on Ebay last May but after Woods commented on the authenticity of Mata's claims, Ebay abruptly pulled the item from auction.
Article continues below advertisement
"He may have my set of irons, but they're not from those tournaments," Woods said of the irons this past May. "They're in my garage."
Mata, in hopes of proving his claims are true, includes the following with purchase of the clubs: an affidavit sworn under oath and penalty of perjury attesting to authenticity of Tiger Slam clubs; polygraph results, a newspaper article linking him to the clubs; and testimony from a PGA player to a Golf magazine that supports his claim.
By Tuesday morning, two bidders had driven the price up to $1,100.
The auction ends September 11; for more info check out www.greenjacketauctions.com.