Kayfabe Commentaries Takes You Behind The Curtain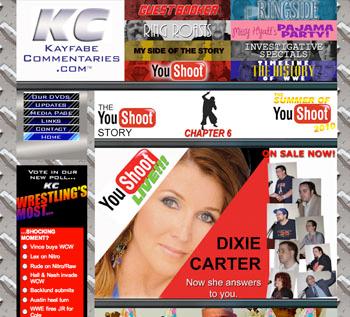 If you're a fan of pro wrestling, you've probably been entertained watching reality shows featuring mat stars out of their ring surroundings, such as Hogan Knows Best, The Apprentice (Bill Goldberg, Maria Kanellis) and The Surreal Life (Chyna).
If any of those caught your interest, then Kayfabe Commentaries is a Web site you'll find to be a revelation, as the company produces high-quality DVDs that take you behind the curtain, and get to the marrow of the spectacle pro wrestling is.
Article continues below advertisement
Fireworks And Celebs Guaranteed At UFC Championship In Vegas
Host Sean Oliver makes for an excellent front man, ranging from a deadpan comic to investigative journalist in the company's assortment of DVDs. The innovations are in no short supply at Kayfabe Commentaries, who have an array of interview formats tailored to showcase each performer in the most entertaining way possible.
One such concept is YouShoot, which pros such as Kanellis, The Honky Tonk Man and TNA head Dixie Carter field uncensored questions from fans submitted via YouTube. Another entertaining find is the company's Ring Roast series, in which ring legends are roasted by comedians and their peers to hilarious -- and sometimes unpredictable -- results.
For more info, check out their Web site at KayfabeCommentaries.com.