Extreme Exposure: Phenomenal Photography Of Our World On Display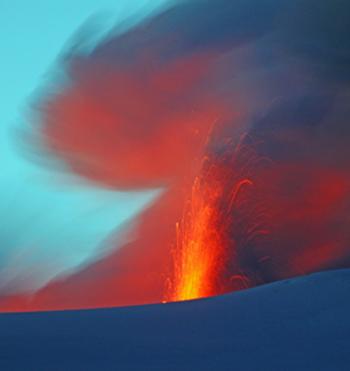 Extreme Exposure is an upcoming fall exhibit from our friends at Los Angeles' Annenberg Space for Photography, showcasing award-winning photography of our wildlife, climate and environment.
Check Out More Of the Astounding Photography
The pictures present a unique look at some of the planet's most mercurial environments, as the photographers on display dangled from helicopters, immersed themselves in alligator-infested waters, endured freezing temperatures for months, and braved angry volcanoes -- all for the shot.
Article continues below advertisement
Annenberg Awash In Exhilarating Photography
Some of the exhibits slated for the display include: Clyde Butcher's Swamplands; lush jungle photography by Michael "Nick" Nichols, bringing the audience nearly face-to-face with tigers and gorillas; Paul Nicklen's alien landscapes found in polar regions, and the rare animals inhabiting these isolated environments; and Donna and Stephen James O'Meara's vibrant photos of erupting volcanoes and dancing molten lava.