Exclusive
EXCLUSIVE INTERVIEW: Michael Lohan On Lindsay's Release: 'All I Want Is A Relationship With My Daughter'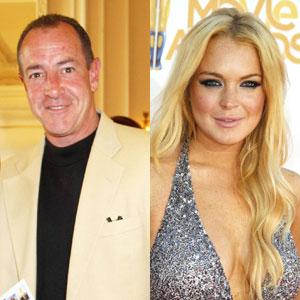 Now that Lindsay Lohan is out of rehab, there's one person who's hoping to edge his way back into her life—her dad.
Michael Lohan tells RadarOnline.com exclusively that he is thrilled his daughter is out of UCLA and will continue to move forward with plans to reconcile with her.
"Now that Lindsay is out, God bless her," Lohan told RadarOnline.com. "She has been through a lot and I give her a lot of credit. I have been saying this and pointing out that Lindsay was misdiagnosed and should never have been on prescription medications for years. What don't people get?"
Article continues below advertisement
RadarOnline.com exclusively broke the news that Lindsay was released from rehab at UCLA Medical Center on Tuesday, well ahead of the 90 days she was ordered to spend there by Los Angeles Superior Court judge Marsha Revel.
Lindsay will now undergo outpatient treatment several times a week at UCLA. The actress, 24, must attend five AA meetings a week, will participate with a mental health professional several times a week and must reside in California until November 1. She will also be required to take random drug and alcohol tests at least twice a week.
Shawn Chapman Holley, Lindsay's attorney, told RadarOnline.com, "She's very serious about her sobriety."
"All I want is a relationship with my daughter," Lohan told RadarOnline.com. "Hopefully, Dina and the other people around Lindsay will do the right thing and finally get on the same page as me. If we were, most of this wouldn't have happened in the first place."
RELATED STORIES:
Judge Sets Terms For Lindsay's Freedom—No Drugs Or Alcohol, Lots Of Meetings